Welcome
The Investment Game
Learn about investing while having fun with your friends!
Investing money in the stock market might sound like a big deal, something only adults do. Learning now can have a big impact on how smart you are with your investments later in life. Understanding how the stock market works is a great way to improve your math skills along with social studies, reading, and writing. The best part is, you don't have to invest any real money to start learning about investing in the stock market. Here is how to play the stock market game!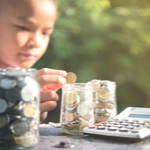 It is easy to play games with the stock market because all the information that investors use with real money is publicly available. Here are a few rules you can use with your family, friends, or classmates to play with the stock market. You can even do it alone, if you want.
Everyone starts with $10,000 (of fake money). Each player must spend at least $9,000 on stocks, including commissions. The remainder may be kept in a bank account.
Set a minimum and maximum of how many stocks everyone should invest in. A minimum of three and a maximum of six stocks is usually a good mix.
A 3% commission is around average. You'll need to add this to every time you buy or sell a stock.
Create an Excel or Google Sheet to track your transactions. Keep an accurate account of your portfolio and any money you have left in your bank account. There are premade templates available if you search for them. There is even an app created by the SIFMA Foundation available on Google Play or the App Store.
Set a timeline for the game. At least a week, but longer is up to you. If you're doing this as part of a class project, it could take up the whole school year.
On the last day, sell your stocks and report your portfolio's value. Whoever was able to grow their initial investment the most wins!
If you want to know more, especially if you want to invest real money, stop by your credit union and ask a few questions. They'll set you up with a financial advisor who will be more than happy to get you started. From there, you and your parents can make choices when it comes to investing in the real stock market.