Welcome
Summer Reading Challenge
Are you up for a summer reading challenge? With billions of books to read in the world, who knows what wild adventures you could discover inside a new book!
A summer reading challenge is a great way to discover new favorite books, share in friendly competition (even if it's just competition with yourself!), and then celebrate your accomplishments.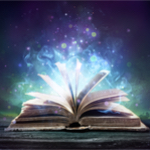 You can find reading challenges at your local library, through your school, or online. You can also make up your own reading challenge and invite your whole family to play along.
To make your own reading challenge, first decide what the goal of the challenge will be. Is it to read the greatest number of books, the greatest number of pages, or to follow a list of different types of books to read? Any way you do it, you can set bigger challenges for older siblings and parents—there's no getting off easy, even if it is the summer!
If you make a list of types of books to read—or find one online—make sure it's fun and everyone can find something they're excited to read. Your list might include reading a book that was turned into a movie, a mystery, a nonfiction book, a book about animals, a book about ghosts, a book with a cat on the cover, or a book by an author that uses a pen name.
Second, set an end date for the competition. Do you want it to last for one month, two months, or all summer?
Next, make a checklist, or print one from the Internet, for each reader in your challenge so everyone can keep track of the books they've read. Maybe put everyone's lists on the fridge and decorate them with stickers or markers for each book read.
Finally, decide how you're going to celebrate the end of the challenge and any reading goals you meet! If your whole family participates, plan an ice cream party, picnic with water games, or movie night. Decide if there will be a prize for the person who reads the most books or the most number of pages.
Let the reading challenge begin!