Welcome
A Look Back and a Look Ahead
With the winter break at the end of December, now is the time to look back at the last semester and start planning for the next. How are your grades? How are things going with school work and activities? If needed, this is a great chance to hit the reset button, take a deep breath and dive back in!
How Did It Go?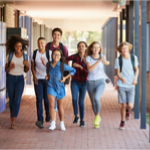 When you look back at last semester, how did it go? Are you on track? Did you make the grades you thought you would? This is the time to step back and figure out what worked and what didn't. You'll probably have a few weeks off of school, so sit down and really think about it. Learn from your experiences and be ready to go in January.
What's Next?
Look back, but also look ahead. What will change next semester? New classes? New after-school activities? Make sure to work that into your schedule. A new sport or after-school club can take up several hours each week. You might end up with more or less time than you're used to having. Make sure that you're not taken by surprise.
Let's Go
Make a plan, enjoy the break and come back ready to go. Whether next year is more of the same, or something new and big, meet it head on. Good luck and see you next year!